PHISIC 2016

3td and 4th of October 2016

Workshop on Practical Hardware Innovations in Security Implementation and Characterization
Accomodations
We suggest you a list of hotels located in the vicinity of the Meeting location (Provence Microelectronics Center, G. Charpak in Gardanne, near Aix-en-Provence).
Address
École Nationale Supérieure des Mines de Saint-Étienne
Site Georges Charpak
Centre Microélectronique de Provence
880, route de Mimet
F-13541 Gardanne
France
Tel. : +33 (0)4 42 61 66 00
GPS : 43°26'44" N / 5°28'47" E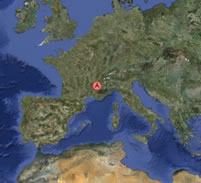 Rail station
Public transport buses and TER (express regional train) run between Aix-en-Provence (center rail station) and Gardanne rail station.
TGV station - Aix en Provence (18 km from Aix-en-Provence and 15 km from Gardanne)
To reach the workshop venue, you can take a taxi, rent a car or call us
Address


R.D 9 - Plateau de l'Arbois
13592 Aix en Provence Cedex 3

TGV station - Marseille St Charles
To reach Gardanne rail station, you can take the TER
Address


Quartier Saint-Charles, Square Narvik
13232 Marseille Cedex 1

TER Station - Gare de Gardanne
To reach the workshop venue, you can take a bus or call us
Address


Place de la gare
13120 Gardanne
Contact
| 2016 | © ENSM.SE
2016 | © ENSM.SE